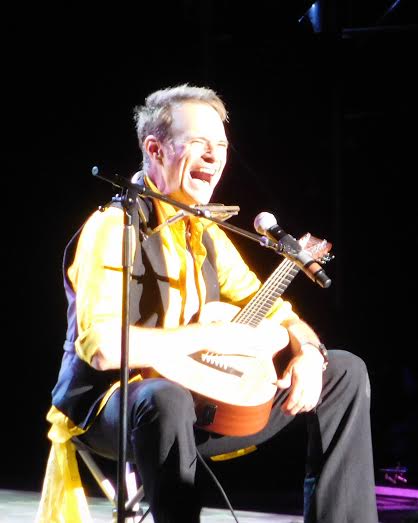 By Tanja M. Alvarez (words & photos)
Drama is no stranger to Van Halen, one of the most successful American rock bands in history. Over the course of their long and prosperous career the group has undergone a few not-so-amicable changes, some of which were accompanied by public statements of dismay. Despite the seemingly tumultuous relationships between band members, the quartet has written and performed some of the best known rock songs of the past four decades and has sold over 80 million records worldwide.
July 5th marked the beginning of Van Halen's current North American tour with all-time members Alex and Eddie Van Halen on drums and guitar, Eddie's son Wolfgang on bass, and David Lee Roth on lead vocals. Due to the release of their live album "Tokyo Dome Live in Concert" just a few months ago, thousands of fans in every major city once again eagerly awaited a display of enormous musical talent accompanied by a measure of unpredictability capable of taking the entire show in a whole new direction. The well-documented tension between the band's guitar virtuoso and its flamboyant frontman has spilled over onto the stage in the past, and Roth's inconsistent vocal performance almost begs you to place a wager on whether he's going to absolutely nail or terribly butcher the next song.
Nevertheless, or possibly exactly because of that, over 10,000 fans came to the Concord Pavilion on July 9th to see their favorite band. Many appeared instantly mesmerized as the rockers took the stage with whirlwind opener "Light up the Sky" from their 1979 release Van Halen II. "Running With the Devil" ("Van Halen", 1978) was a great strategic move as a follow up keeping the momentum alive. The whole stage was illuminated with red lights and David Lee Roth immediately started working the crowd, kneeling down in front of hypnotized fans. "Everybody Wants Some" ("Women and Children First", 1980) and "Feel Your Love Tonight" ("Van Halen") were also great choices and definite crowd pleasers.
About ten songs into the set, Alex Van Halen delivered a skillful drum solo. Fans took in every beat and appeared to love every minute of it. The slightly older one of the Van Halen brothers, Alex proved to be in great shape. Looking slick with his dark glasses he appeared to enjoy not only his time in the spotlight but the entire show. At the end of his solo he stood up, thanked fans, and appeared genuinely gratified.
The 25-song set continued with a mix of greatest hits and songs that haven't been played live very much, at least not for quite some time. "Women in Love" ("Van Halen II", 1979) was reminiscent of old times, especially when Dave was joking around with Eddie in between lines. "Ain't Talking 'Bout Love" ("Van Halen") was another crowd favorite, and loud screams prompted the frontman to turn directly to the audience announcing: "I'm just feeling good. How about you?"
Overall, Diamond Dave appeared to be his dazzling self minus a little hair and some height on his signature karate kicks. His big smile, his grand gestures, and many wardrobe changes were all still the same. His comments and stories continue to bear undeniable parallels to his singing: sometimes hilarious, sometimes a little inappropriate, but always entertaining. He sounded amazing during quite a few songs, such as "In a Simple Rhyme"("Women and Children First"), "Ice Cream Man" ("Van Halen"), and "Unchained" ("Fair Warning", 1981). In all fairness, Roth's vocals are as unique as his antics, and his fans, who know to expect the unexpected, love him for exactly that reason.
When it was time for Eddie's guitar solo, the gears abruptly switched from unpredictability to dexterous precision. Not many guitar players are able to captivate an audience with such skillful and distinct styles as this accomplished master of the six-string. Eddie showcased some of his signature styles, among them a technique called "tapping" which he is pericularly known for. It was a great pleasure to watch him elicit such beautiful sounds from his instrument with such ease.
The roughly two-hour show wrapped up with a few more big hits. Kinks' cover "You Really Got Me" was part of the package, as well as "Panama" ("1984", 1984), which elicited a strong reaction from the audience. Finally, Roth addressed fans one more time asking: "Do you want to hear the encore?" knowing that this had to be a rhetorical question. "Jump", Van Halen's one and only number one on the US Billboard Hot 100, fit that slot perfectly with its high energy and Roth twirling a baton.
When everything was said and done, fans had no reason to be disappointed. May their personal relationships be as they are, on stage everyone did their part, from the Van Halen brothers' amazing drumming and strumming to Diamond Dave's exquisite showmanship. Not to forget Wolfgang Van Halen who was not only amazing on bass but was also instrumental in teaming up with his dad to save the day more than once with great back up vocals. Fans left happily hoping that the sentiment was equally peaceful backstage.