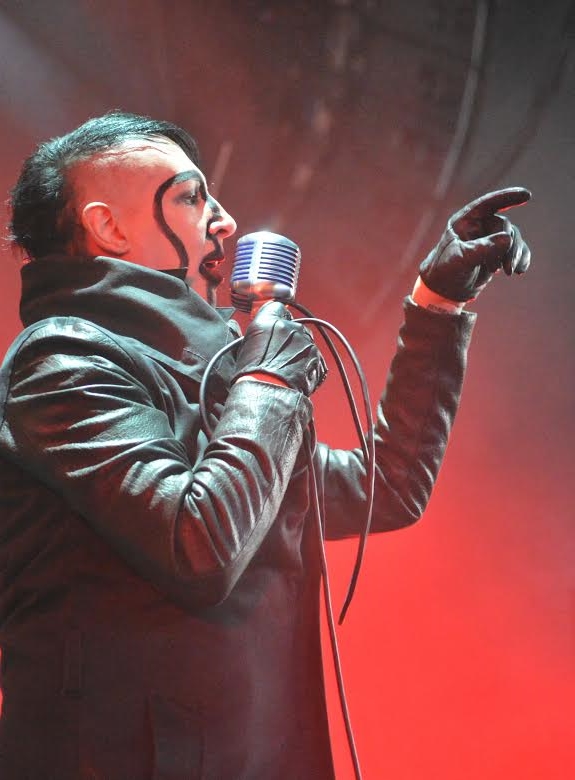 By Tanja M. Alvarez (words & photos)
He portrays the ultimate villain. He is the Antichrist and the self-proclaimed God of F***. Worshipped by fans, condemned by conservatives and blamed for many things gone astray in this society, his image has become larger than life perfectly reflecting the juxtaposition of his stage name.
People either love or hate him; with Brian Hugh Warner, aka Marilyn Manson there isn't much in between. His power lies in his ability to create controversy, such as luring religious activists away from feeding the homeless and other good deeds to rush to his shows and harass concert goers instead.
Last Tuesday, the rocker, who discovered his attraction to things one isn't supposed to do while attending a Christian school as a child, set out to bring chaos and non-conformity to the beautiful Concord Pavilion on the first date of his "End Times Tour".
The stage was covered in its entirety with a heavy black curtain allowing Manson to slip onstage unseen by the audience. Loud cheers of anticipation erupted, and the dark obstacle soon gave way allowing fans to get their first glimpse of Manson dressed in all black, with short, asymmetrical hair, and his signature pale make up.
With the first notes of the opener "Deep Six", the second single from Manson's ninth studio album "The Pale Emperor" released earlier this year, screams got even louder for an appropriate welcome.
Amidst clouds of thick smoke, an intent Manson energetically swung his mic around surely indicating that he was about to unleash a brutal visual and auditory attack on the over 10,000 Manson faithful in attendance. "Disposable Teens" (Holy Wood, 2000), "mOBSCENE" (The Golden Age of Grotesque, 2003), and "No Reflection" (Born Villain, 2012) all left fans screaming for more. Then followed a second and final song from his latest release "Third Day of a Seven Day Binge".
Much to the pleasure of his fans, Manson has never been an artist to relentlessly push his new material making his shows a better qualitative experience as opposed to a shallow attempt to promote a new product. One of the classics that everyone was dying to hear was Eurythmics cover "Sweet Dreams (Are Made of This)" which first earned Manson substantial notoriety way back in 1995. Fans were not disappointed as the Ohio native appeared on stilts, a spectacle reminiscent of his entrancingly creepy music videos.
From here on the tension continued to rise. During "The Love Song" (Holy Wood, 2000) the former music journalist posed behind a podium with a double barred cross logo, taking on a charismatic persona full of innuendos. Then, during "Lunchbox" (Portrait of an American Family, 1994), he simply sat on the floor delivering an exquisite vocal performance with intense screams.
Although this show wasn't as extraordinarily outrageous as many of his past gigs, Manson wasn't ready to call it quits without some of his villainous spectacles he is so well known for. He performed "Antichrist Superstar", title track from his 1996 studio album, partly standing behind a second, even larger podium decorated with his infamous shock symbol, partly sitting and laying on top of it. The encore came way too soon but Manson didn't let up until the last note.
He jumped into the crowd during "The Beautiful People," shaking hands and becoming acquainted with fans in the front rows. Finally, he jumped back on stage teasing long-time bass player and collaborator Twiggy Ramirez and knocking over a couple of floor lights before vanishing for good.
This roughly one-hour long performance was too short, but sweet nonetheless. Co-headliner Smashing Pumpkins was on deck, and there was a curfew to be cared for.
Despite the somewhat toned down presentation, this show was a Manson extravaganza, if you will, with special attention paid to the music and vocals like (possibly) never before. Rarely has Manson appeared so focused and determined. He was very much on top of his game.
According to Manson's philosophy: May evil prevail, freedom of expression conquer conformity, and critics accept their insignificance.