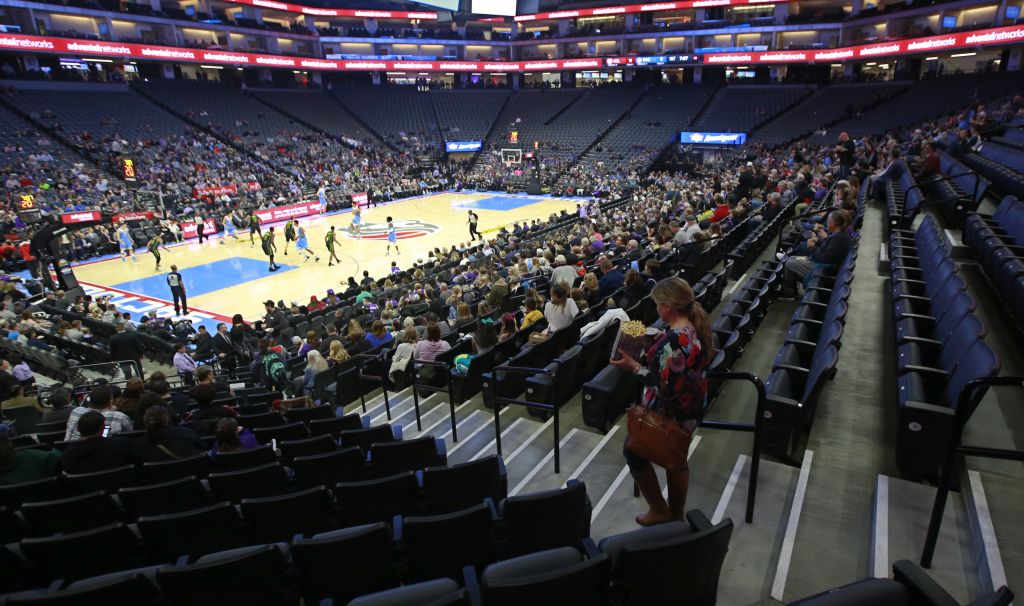 By Ryan Hanlon | @ryan_hanny
The Stephon Clark tragedy has shook my community to the core. Aside from an enlightening stint at UC Berkeley for college, I have spent virtually my whole life in Sacramento. Naturally, I am a loyal Sacramento Kings fan. While strong ties to the community certainly grant me an emotional stake on this issue, my qualifications for writing this article end there. I was raised by a conservative white family in the middle class suburb of Elk Grove. I am not a police officer, and I have no family or close friends that have served in law enforcement. I also have never served in the military or been in a combat situation. Thus, I am lacking perspective on both sides of this equation. Then again, maybe it is precisely that lack of perspective that affords me the objectivity necessary to write this article.
On the evening of March 27th, 2018, a good friend and I went to see the Sacramento Kings play the Dallas Mavericks at the Golden 1 Center in Downtown Sacramento. Why, you might ask? Good question. On paper, this tank-fest of a game is about as intriguing as another 50 Shades of Grey sequel, but, as I mentioned, I am a loyal fan. When we arrived close to game time we were greeted by a notably diverse group of hundreds of citizens protesting the shooting of Stephon Clark.
To be honest, my immediate reaction was one of annoyance. Of course I sympathize with Stephon Clark's family, friends, and community for their tragic loss. I also recognize that racially charged police violence is a legitimate issue that communities face across the country. But what the hell do the Sacramento Kings and their fans have to do with this horrible tragedy? This might be my last chance to see the great Dirk Nowitzki play, and these protesters are denying me that opportunity for something that neither I nor the thousands of other men, women, and children standing dumbfounded outside the arena gates had any part in?
As the protesters continued to stand their ground, the Kings promptly notified fans that they would not be able to get into the arena and that they would be receiving refunds for the price of admission. My friend and I then went to a local bar where we found other exiled Kings fans. Over a couple beers and some appetizers, my friend and I began to engage in an in-depth and constructive conversation about what we had just witnessed and the circumstances surrounding it. Over the course of the night, I couldn't help but overhear many other Kings fans engaging in similar conversations, though some less constructive than others.
Some folks openly supported the protest. Others didn't seem to mind the protest or the effect it had on their night. The more common sentiments, however, were along the lines of, "There is a place called the State Capitol! This is not a good way to get their point across." And my first instinct as stated above: "What the hell do the Kings and their fans have to do with this?" As the beer and conversation continued to flow and the Kings continued to lose the game (or win the draft lottery war, depending on how you look at it), I quickly realized that I was missing the point.
Because the protest directly affected me, it forced me to think about the issue in a way that a protest marching on the steps of the Capitol never would have. It forced me to seek out the facts in an effort to develop an informed opinion both on what happened to Stephon Clark and the method of protesting the same. It made me feel uncomfortable. And that is the point. The protest is working - people are talking, and, more importantly, people are listening.
Fortunately, one of the most influential voices in my community is setting an example by engaging in constructive conversation about these issues. While the Sacramento Kings organization has not done much right from a basketball standpoint over the past decade plus, they've handled the recent protests with class and grace. On March 22, 2018, the first night the protest denied fans access to the Kings game, the Kings' owner, Vivek Ranadive, stepped up and addressed the Kings fans, the protesters, and the NBA by making a simple and straightforward live statement expressing compassion and promoting unity.
That is a tough task for any owner of a sports franchise, especially considering he couldn't have had much notice. He said nothing particularly profound, and he for the most part took the politics out of his message (which is difficult to do), but he squarely addressed the situation, voiced support for the family, and preached solidarity. Every NFL owner had the opportunity to make a similar impact for their respective communities last NFL season, and while some issued statements and/or stood with players in direct response to President Trump's lambasting of the NFL for not changing its policy on the anthem protests, none that I am aware of made live public statements to positively address the anthem protest itself. Sure, there are different facts and dynamics at play in the NFL which do not make the comparison apples to apples (less NFL games, a different demographic of fans, players protesting as opposed to citizens, and a different method of protest), but these complications do not excuse inaction – or worse – condemnation. Mr. Ranadive may have no idea how to build a front office, but he is miles ahead of the field when it comes to steering a franchise and a community through delicate social issues.
After the March 27th protest again denied fans access to the Kings game, Mr. Ranadive continued to engage in constructive conversation when he sat down with the leaders of the protests to discuss how to come together and move forward. The result of that meeting was a partnership between the Sacramento Kings, Sacramento Black Lives Matter, and the Build. Black. Coalition in an unprecedented effort to fundamentally transform Black communities through investment in black youth in Sacramento. The partnership's effort to support black youth in Sacramento began promptly this past Friday (March 30, 2018) when current Kings players Vince Carter and Garret Temple and Kings legend Doug Christie appeared at a local event titled "Kings and Queens Rise: A Youth Voice Forum for Healing." Again, the Sacramento Kings lead by example and use their platform to foster togetherness.
We should all follow the example set by the Sacramento Kings. We should all engage in this process, not be dismissive of it. We should all be respectful of and receptive to other people's viewpoints, not criticize the manner in which they express them. We should all search for common ground.
I am not here to tell you what your opinion should be on the issue of racially charged police violence in our country. That is for you to decide. But keep in mind, despite what the media would have you believe, your opinion does not have to be confined to the extremes of either "fuck the police" or "tough shit, when the police say stop, stop." That's the easy way out. While I'm on my soapbox, I'd argue that either extreme almost presupposes that you have not thought critically about the issues, reviewed the objective facts, and/or discussed the issue openly and respectfully with others who may disagree with you (posting provocative comments on social media does not count in my book). You can support some aspects of the protests and disagree with others. There is room for nuance. I doubt this article takes an extreme enough position for those who protested at the Kings games on March 22nd and March 27th, and I am certain this article does not satisfy those who left the arena cussing and screaming at the protesters. But that is just fine.
What happened to Stephon Clark was undoubtedly horrific and representative of a larger issue in our country. I do not presume to have all the answers for how to best address this issue. I do know, however, that any significant social issue cannot be effectively addressed without the leadership of those in positions of power and influence. While I couldn't disagree more with President Trump's characterization of this tragedy as a "local issue," I do agree with how my community and its leaders are working to address it on a local scale. I can only hope that, when given the opportunity, people and organizations in positions of power in other communities across the country will follow the example set by the Sacramento Kings in the wake of the Stephon Clark tragedy. Now, more than ever, I am #SacrametoProud.